You must have prepared well ahead for the next exciting adventure trip of yours, which includes selecting the best ammunition, getting the new gears, new pair of hunting boots and off course getting yourself and your clothes scent-free. But, what do you do when you are not hunting? Where do you store your hunting wears and how?
(from theohiooutdoors.com)
It isn't as thrilling as singling out a deer, setting up food plots. In fact, taking care of your hunting clothes is like an office job in comparison to the field hunting. However, it is the most important factor or task that decides your hunting success.
Here are few things to remember when you are storing your clothes until next hunting season;
Wash your clothes before you store them away. Use detergents that are scent-free. There are several available. The usual detergent that we generally use to wash our daily wears contains perfume. Some detergents have UV brightener to brighten the color of your clothes. Brightening the color hunting wears is definitely a BAD IDEA.
You can also use borax or baking soda to wash you dirty hunting clothes.
Remember, there could be some detergent left over in your washing machine from the previous wash. Either you run a few loads of daily clothes in odorless detergent to remove the smell of the previous detergent or fetch a bucket and get ready for some hard work.
Don't use any dryer to dry your clothes. Get your clothes some fresh air. Air dry them.
Now that your clothes are free from your scent it is important to keep them unaffected. Use plastic bags with zipped seals, or Rubbermaid or any other airtight and waterproof container.
Traditionally, hunter put in pine needles, grass, dry leaves, oak or cedar in the container or bags so the hunting clothes absorb scent of the animals' natural habitat. You can also try spraying some scent eliminator into plastic bags. Wipe it with odorless towels before putting in your clothes. Store your inner clothes in a  separate bag.  It thwarts scent contamination.
(from internet)
Are you using special hunting clothes with scent absorbing abilities? One thing you must remember that scent absorbing clothes work like a sponge. Both once saturated won't work. So, never ever keep your special wears along with your other daily wear or anything smelly. You can store your clothes with grass, twigs, but it can reduce the effectiveness of certain products. So watch it out.
Science is progressing and helping hunters go scent-free. As you know, Ozone is generally used to cleanse the hospital rooms. Now, a few manufacturer made small ozone creating machines that take out the smell from your clothes. All you have to do is to put the machines with your clothes and it will do the job.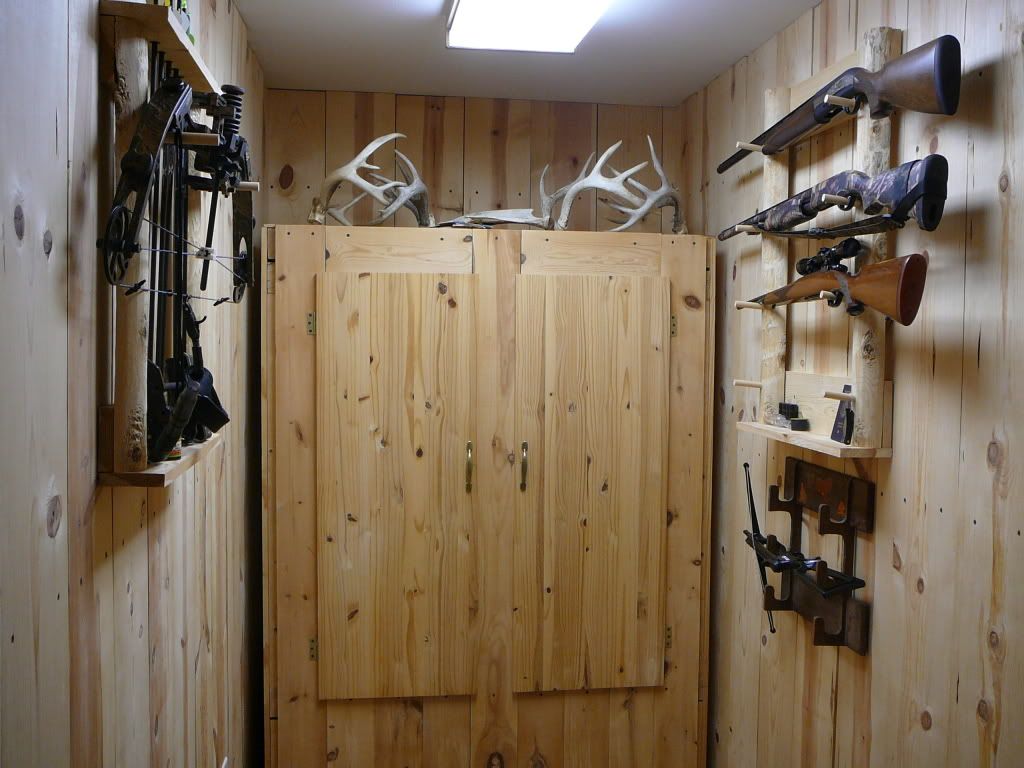 (from internet)
Don't dump your hunting wears on the floor or bin with other clothes. It takes a lot of effort to make it odorless. Wash them separately, treat them with love, and store them away for the next hunting season. Don't get your hunting clothes until you reach your hunting ground. Try to control your emotions and excitement as it makes you perspire creating a strong odor. Keep yourself calm and scent free as much as possible. More than anything else, watch the wind carefully while hunting – guard yourself.
It is better to take precaution rather than getting busted by a bear!
Be Prepared! Happy Hunting!